Recipe:No Knead Bread
Jump to navigation
Jump to search
Earth: April 11, 2011 -
 * 3 cups bread flour
 * 1.5 cup whole wheat
 * 1.1 tablespoon salt
 * 2.45 cup water (just under 2.5)
 * 3/4 cup of sourdough starter (from making bread last week)

---
Log
 * 1800 day 0 : bread dough made
 * 70F
 * 2300 day 0 : noticeable poof to dough, no or few visible bubbles


Earth: March 31, 2011 -
 * 2 cups bread flour
 * 1 cup whole wheat
 * 3/4 tablespoon salt
 * 1 5/8 cup water (1.5 + 2tblspoons)
 * half cup of sourdough starter (from making bread last week)

 * initial rise 18-24 hours
 * second rise 2-3 hours (in a 65-70F kitchen)


I started with the 'normal' steamykitchen recipe, but wanted the dough wetter than it calls for. So I did what I did last time, add a little more water to make it a wetter dough, halfway to a batter, won't form a ball, but is not a liquid...
Loaf #2 2011 came out great, in the top loaves I've ever made, it used the 2/1/.75/1.625/sourdough starter recipe, 20 hour first rise, 2.25 hr second rise. 30 minutes at 450F lid on, then 25ish at 450 with lid off, resulted in some small blackened parts, solid brown all over.
Loaf #3 2011 came out slightly less good because it didn't rise enough, though the flavor is equally good. Dough was initially not quite as wet.. humidity? slight variation in measuring? I stuck to the recipe, but my intuition was to add another 1-2tsp of water. In the end, I think it was a step down because we were at the end of the day and forgot to make it, so I only let it rise 2nd time 1.75 hours and it did not look like it had puffed up enough.
Loaf #4 2011 was made larger, 1.5 recipe, to better fit the cooking pan, that seemed to work, though it needed much longer in the steam pan before taking the lid off. The dough bubbled for 2 days instead of 1. At 24 hours, it definitely had not risen or bubbled as much as the last time, it could have been the kitchen temperature, which was lower (cold spell at barncliff) and by the second day it wound up pretty soupy / loose / bubbly, I was concerned it wouldn't work very well. I stirred it to 'punched it down', let it sit for 20 minutes, then let it rise for 2 hours before cooking. Second rise could go a bit longer too.
Loaf #5 2011: 1.5x recipe (4.5 total cups flour)

http://www.nytimes.com/2006/11/08/dining/081mrex.html
http://steamykitchen.com/168-no-knead-bread-revisited.html
In 2009, Earth first experimented with No-Knead bread, turned out amazing. Subsequent trials turned out less good, but overall I've been very pleased with it. The longer the first rise/sit/bubble, the more taste it gets. Treating it a bit like a sour dough starter gets the best flavor.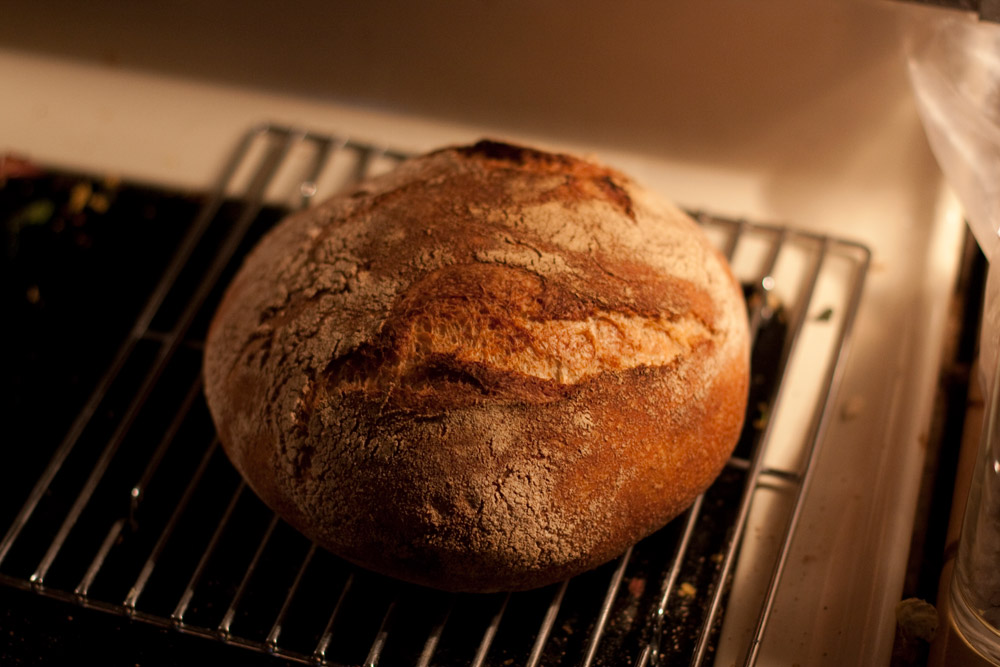 Adapted from Jim Lahey, Sullivan Street Bakery Time: About 1½ hours plus 14 to 20 hours' rising
3 cups all-purpose or bread flour, more for dusting ¼ teaspoon instant yeast 1¼ teaspoons salt Cornmeal or wheat bran as needed.
1. In a large bowl combine flour, yeast and salt. Add 1 5/8 cups water, and stir until blended; dough will be shaggy and sticky. Cover bowl with plastic wrap. Let dough rest at least 12 hours, preferably about 18, at warm room temperature, about 70 degrees.
2. Dough is ready when its surface is dotted with bubbles. Lightly flour a work surface and place dough on it; sprinkle it with a little more flour and fold it over on itself once or twice. Cover loosely with plastic wrap and let rest about 15 minutes.
3. Using just enough flour to keep dough from sticking to work surface or to your fingers, gently and quickly shape dough into a ball. Generously coat a cotton towel (not terry cloth) with flour, wheat bran or cornmeal; put dough seam side down on towel and dust with more flour, bran or cornmeal. Cover with another cotton towel and let rise for about 2 hours. When it is ready, dough will be more than double in size and will not readily spring back when poked with a finger.
4. At least a half-hour before dough is ready, heat oven to 450 degrees. Put a 6- to 8-quart heavy covered pot (cast iron, enamel, Pyrex or ceramic) in oven as it heats. When dough is ready, carefully remove pot from oven. Slide your hand under towel and turn dough over into pot, seam side up; it may look like a mess, but that is O.K. Shake pan once or twice if dough is unevenly distributed; it will straighten out as it bakes. Cover with lid and bake 30 minutes, then remove lid and bake another 15 to 30 minutes, until loaf is beautifully browned. Cool on a rack.
Yield: One 1½-pound loaf.
LAST month I wrote about Jim Lahey, the owner of Sullivan Street Bakery on West 47th Street in Manhattan, and his clever way to produce a European-style boule at home. Mr. Lahey's recipe calls for very little yeast, a wet dough, long rising times and baking in a closed, preheated pot. My results with Mr. Lahey's method have been beyond satisfying.
Happily, so have those of most readers. In the last few weeks Jim Lahey's recipe has been translated into German, baked in Togo, discussed on more than 200 blogs and written about in other newspapers. It has changed the lives (their words, not mine) of veteran and novice bakers. It has also generated enough questions to warrant further discussion here. The topics are more or less in the order of the quantity of inquiries.
WEIGHT VS. VOLUME The original recipe contained volume measures, but for those who prefer to use weight, here are the measurements: 430 grams of flour, 345 grams of water, 1 gram of yeast and 8 grams of salt. With experience, many people will stop measuring altogether and add just enough water to make the dough almost too wet to handle.
SALT Many people, me included, felt Mr. Lahey's bread was not salty enough. Yes, you can use more salt and it won't significantly affect the rising time. I've settled at just under a tablespoon.
YEAST Instant yeast, called for in the recipe, is also called rapid-rise yeast. But you can use whatever yeast you like. Active dry yeast can be used without proofing (soaking it to make sure it's active).
TIMING About 18 hours is the preferred initial rising time. Some readers have cut this to as little as eight hours and reported little difference. I have not had much luck with shorter times, but I have gone nearly 24 hours without a problem. Room temperature will affect the rising time, and so will the temperature of the water you add (I start with tepid). Like many other people, I'm eager to see what effect warmer weather will have. But to those who have moved the rising dough around the room trying to find the 70-degree sweet spot: please stop. Any normal room temperature is fine. Just wait until you see bubbles and well-developed gluten — the long strands that cling to the sides of the bowl when you tilt it — before proceeding.
THE SECOND RISE Mr. Lahey originally suggested one to two hours, but two to three is more like it, in my experience. (Ambient temperatures in the summer will probably knock this time down some.) Some readers almost entirely skipped this rise, shaping the dough after the first rise and letting it rest while the pot and oven preheat; this is worth trying, of course.
OTHER FLOURS Up to 30 percent whole-grain flour works consistently and well, and 50 percent whole-wheat is also excellent. At least one reader used 100 percent whole-wheat and reported "great crust but somewhat inferior crumb," which sounds promising. I've kept rye, which is delicious but notoriously impossible to get to rise, to about 20 percent. There is room to experiment.
FLAVORINGS The best time to add caraway seeds, chopped olives, onions, cheese, walnuts, raisins or whatever other traditional bread flavorings you like is after you've mixed the dough. But it's not the only time; you can fold in ingredients before the second rising.
OTHER SHAPES Baguettes in fish steamers, rolls in muffin tins or classic loaves in loaf pans: if you can imagine it, and stay roughly within the pattern, it will work.
COVERING BETWEEN RISES A Silpat mat under the dough is a clever idea (not mine). Plastic wrap can be used as a top layer in place of a second towel.
THE POT The size matters, but not much. I have settled on a smaller pot than Mr. Lahey has, about three or four quarts. This produces a higher loaf, which many people prefer — again, me included. I'm using cast iron. Readers have reported success with just about every available material. Note that the lid handles on Le Creuset pots can only withstand temperatures up to 400 degrees. So avoid using them, or remove the handle first.
BAKING You can increase the initial temperature to 500 degrees for more rapid browning, but be careful; I scorched a loaf containing whole-wheat flour by doing this. Yes, you can reduce the length of time the pot is covered to 20 minutes from 30, and then increase the time the loaf bakes uncovered. Most people have had a good experience baking for an additional 30 minutes once the pot is uncovered.
As these answers demonstrate, almost everything about Mr. Lahey's bread is flexible, within limits. As we experiment, we will have failures. (Like the time I stopped adding flour because the phone rang, and didn't realize it until 18 hours later. Even this, however, was reparable). This method is going to have people experimenting, and largely succeeding, until something better comes along. It may be quite a while. File:Example.jpg